Our first wedding at Eshott Hall was a delightful autumnal day. Karis & Daniel are a wonderful, down to earth couple, with a close, loving family that welcomed us wholeheartedly on their wedding day.
Daniel & Karis took a long time to deliberating on a wedding photographer. They wanted to get the very best value out of their budget for the day. We know they looked at a number of photographers and we were so glad they chose Halo Photography.
Eshott Hall in Northumberland
Eshott Hall is a beautiful Palladian style, manor house designed by architect Robert Trollope in 1660 and is stunning, inside and out. It's deceptively intimate inside with beautiful rooms. The grounds were stunning even in November. The wisteria still had its leaves but autumn colours were all around the grounds.
The Garden Cottage at Eshott Hall
Karis had decided to use the Garden Cottage for her bridal prep and as Lisa and I approached we were welcomed by Karis's bridesmaids waving at the window, champagne in hand. Karis, her three bridesmaids and mother were thoroughly enjoying the occasion. The situation looked a little wild so I left Lisa to it, fearing being eaten alive.
Getting Eshott Hall Prepared
Daniel arrived at Eshott Hall with his Parents and brother, laden with wedding decorations. They got to work hanging handcrafted adornments and setting up including an instant camera for everyone to add a selfie to their wedding wall of fame. A great alternative to a photo booth.
Karis is a Disney nut. Unfortunately, Daniel isn't so was reluctant to turn the whole wedding into a Beauty and the Beast theme. But she did manage to sneak some little touches into the day. Disney characters as table decorations and "A Tale as Old as Time" book-shaped wedding ring box. Their 3-year-old pageboy couldn't wait to get his hands on it.
Daniel's Groomsmen were a family affair. He had chosen his Dad as his best man and brother as an Usher. The room they used to get ready in was out of this world. Beautifully furnished in a shabby chic style. The lads were well equipped for the day, armed with pocket watches and flasks. We gave everything thorough testing before assembling all of the lads outside Eshott Hall.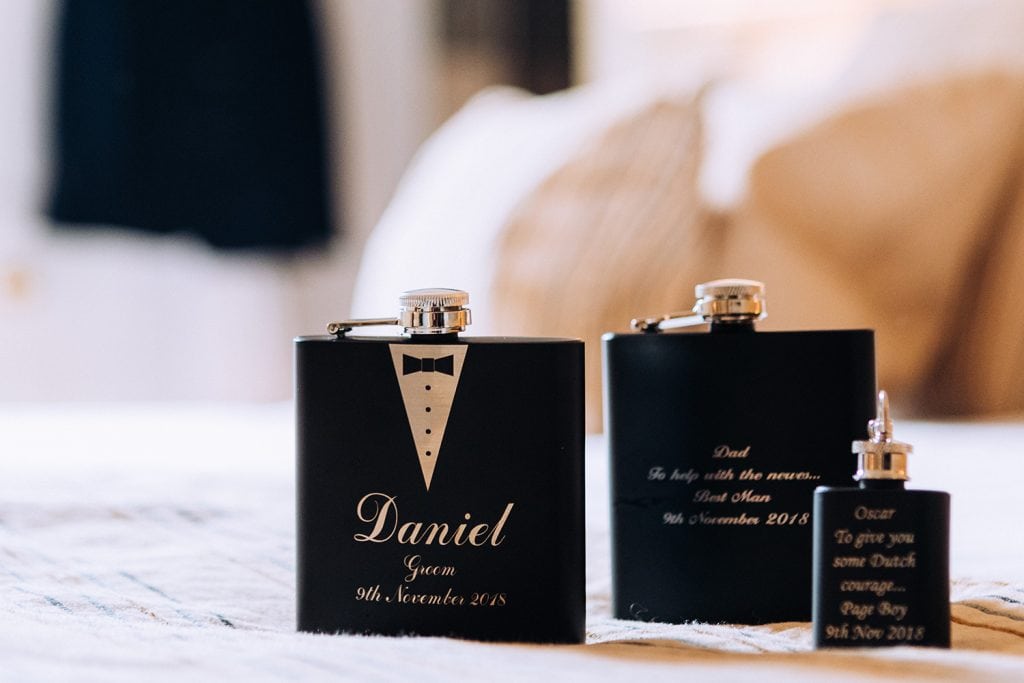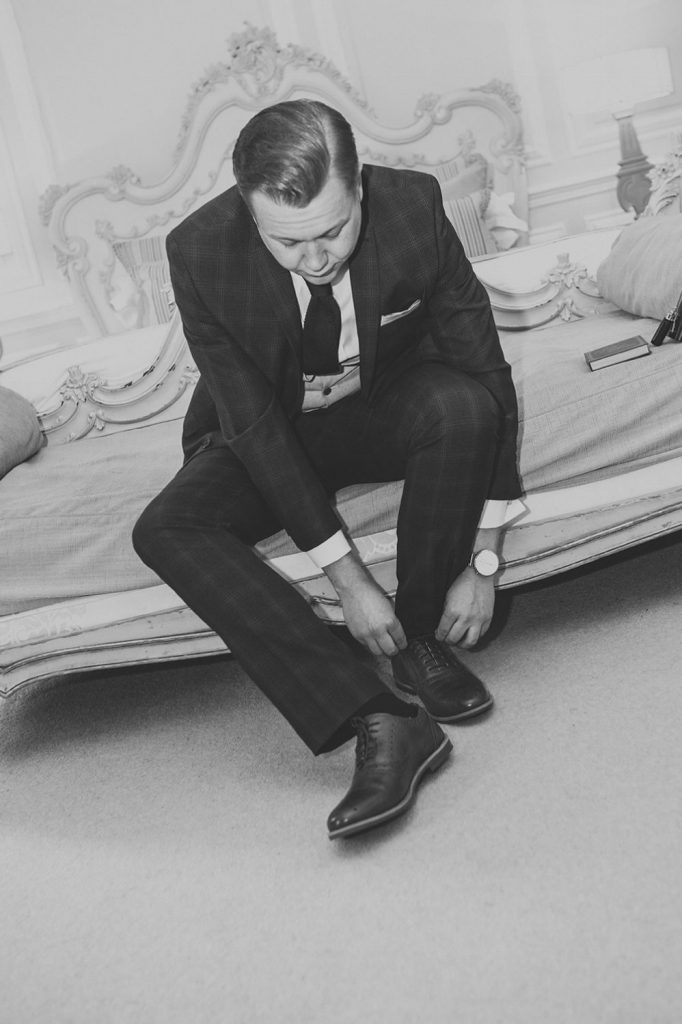 A Tour of Eshott Halls' Grounds
The weather forecast was uncertain for the afternoon. So, while it was fair I decided to take the lads on a tour of the grounds, just in case we didn't get to use them later. It's always nice when the venue has pockets of interest. Eshott has loads of these great areas around the grounds, including an outdoor ceremony area that looks straight out of a fairytale. I'd love to see a wedding held in this wooded area. Today, it was going to be the location of the lads' fashion shoot. Later joined by Daniel's pageboy for the day. At this point, he was either going to steal the show or run a mile when needed. He wasn't sure what was happening. One minute he was willing the next unsure. But he was being properly coached by his Dad.
Meanwhile at the Garden Cottage

After opening gifts from Daniel, and a little champagne, it was time for Karis to get ready. She looked transformed. Her Dads' arrival started the tears of emotion. He set everyone off and it was handkerchiefs all around.
The Reading Room at Eshot Hall
One of the things that makes Eshott different from many of the country house wedding venues in Northumberland is the unique Reading Room. A short stroll down the drive and you'll find Eshott's Reading Room, a dignified former Methodist chapel. The guests had planned to gather outside of Eshott Hall and then walk to it together. I had asked if Daniel & Karis had a "Plan B" in case of rain. There wasn't one. I didn't have brollies for everyone! Luckily the rain held off and they didn't need it.
Escorted by her parents, bridesmaids and pageboy, Karis bravley made the short trek to the Reading Room. Her bridesmaids were ready for the challenge to keep the dress perfect as they walked through the Autumn Countryside.
A very emotional ceremony
As the music started, Daniel pulled some of the best faces I've ever seen a groom produce as he fought desperately not to get emotional. Sometimes you just want to stop and give people hugs to get them through it. Luckily his dad was ready with a hanky. What was even more priceless was Karis giggling at him and then bursting into tears herself minutes later.

It was Daniel & Karis' Pagesboy's big moment and he delivered the rings perfectly. The Registrar was very impressed.
Family & Friends
From our first meeting, Karis & Daniel had an image in mind for their grand group shot. They wanted everyone in the shape of a heart, shot from above. Lisa did a great job directing everyone on the ground into the heart shape as I barked suggestions from above. I always get the fun of dangling out of bedroom windows. It worked really well though and apart from adding a little bit of symmetry to the Wisteria framing one side, the final shots need little or no editing.

The Drawing Room at Eshott Hall
We really squeezed as much out of this November day as we could. As the light started to fail we headed inside. We weren't going to get a sunset but we couldn't complain. The weather had held well past our expectations. Eshott Halls' staff made the final preparations to the Ballroom where Daniel & Karis would be joining their guests for afternoon tea. We used the elegant Drawing room for some quiet time with this great couple.
Eshott Hall at Night
Earlier in the year we invested in some location flash and had struggled to find opportunities to make use of it until today. There hadn't been a gust of wind all day so we felt safe in leaving the unit standing without Lisa holding onto it so she could get Karis' dress looking perfect. Seconds after Lisa took her hand off it a little gust of wind took it over. The diffusion brolly took one for the team and saved it from being a very expensive first outing. After picking up the broken bits of brolly we said our goodbyes for the night. It had been an amazing Wedding. Full of emotion and love from all involved. We wish Daniel & Karis all the best in their future together.
Here are some of Kerry & Michael's suppliers that made their wedding day unique.
We hope you like this small selection of photographs taken at the wedding.