Julia & John's, Long Awaited, Mirco Wedding at Hexham House
I don't think we had ever waited so long for a wedding. The amazing Julia & John originally booked their wedding with us back in 2018 for their big day on April 12th 2019 at Linden Hall. We were so excited as Julia & her sisters had been customers of ours since they were teenagers. They had a portrait session at Halo Photography for their parents Christmas present when we first opened the studio. So how did things change and why didn't they get married till 2021 at Hexham House? LIFE….
The Worst News
Julia was so excited when she booked us. I remember her sending us loads of images she had seen telling us their ideas for their wedding at Linden Hall. The April date would be Julia & John's Anniversary. Then in December 2018, just before Christmas and a few months before their big day, John was diagnosed with Throat Cancer. He was scheduled for surgery & radiotherapy in the New Year. Lisa and I were shell shocked but assured them we'd help them any way we could. Julia & John knew they would have hard months ahead of them and were forced to reschedule their wedding at Linden Hall until April 2020. Staying positive that treatment would go as planned and John would be well enough in a years time.
John's treatment went better than expected but his recovery was hard. We met Julia again in March 2020. It was all systems go. There was a little thing called Covid 19 knocking about but it was nothing to be concerned about??! Two weeks later a silly pandemic forced another reschedule. It was October before Linden Hall would even think about setting another data for 10th April 2021. Surely things would be back to normal by then, and third time would be the charm?
Third Time Lucky?
By January Julia was getting that sinking feeling again as we went into a 3rd lockdown and she was pulling her hair out. All of our brides were finding communication with venues problematic. Staff were furloughed or working from home, as were we. As lockdown winter turned into lockdown spring, Linden Hall offered 26th June 2021. But we were already booked with another reschedule and Julia & John still wanted to marry on, or around, their anniversary. So they booked Hexham House in the hope that they could get married on the 10th of April and then have the party they had always planned at Linden Hall.
We were gutted as just a few days later our wedding for 26th was also cancelled. If we had just waited a few days to reply to Julia & John we would have been able to tell them we could attend both. But Julia, being super organised had already organised another photographer. We had to resign ourselves that we would only be a part of their official wedding.
Hexham House
It would be our first shoot of the year apart from some small product jobs and the following week we'd be able to reopen the studio. So Julia & John's wedding at Hexham House really was the kick start we had waited so long for, 8 months after Lorraine & Russell's wedding at Caboose in Blyth, we worried whether we'd still know how to photograph a wedding. It was also our first time at Hexham House which is a beautiful Registry Office. If Julia & John had booked just 2 days later they could have has 15 people attend instead of only 6. I'm not sure if they didn't want to risk another global disaster over those few days or whether the date was so important to them that they didn't want to change it again.
Plenty of Space
Julia & John would be joined only by their parents. We've photographed weddings with fewer people, one where Lisa even had to be a witness because the planned witness hadn't shown up. But it was a real shame more of their family couldn't attend. Hexham House was beautiful though. Its decor is simple, minimal and classically stylish. A lovingly restored Grade II* listed building. The registry office has great views of Hexham Abbey but sadly, at that time, it was wrapped in scaffolding.
Hexham House Gardens and Park
Hexham House has loads of space outside, basically the whole of Hexham Park if you need it. But it's not very private as there isn't a partition between the gardens & the park. It was the middle April, at the tail end of a lockdown, and the park was still quite busy. We had to ask a poor family that was picnicking on the lawn outside Hexham House to relocate a little so they didn't photobomb the wedding photos. So I can imagine it being a struggle getting some space on a hot Saturday in the summer. Don't tell Boris, but we also had an extra wedding guest that pushed us over the rule of six. A little field mouse that enjoyed the show as we photographed Julia & John with their parents.
As we finished the family photos Julia & John changed into their custom made Adidas Gazelles so they could relax and explore the park a little with us. John apparently collects trainers and had a pair specially personalised for Julia. Even from the early days of planning, we had a brief to make them a feature in the photos.
The Big Twist
I wish I had put my trainers on too. As we walked around the park, I ventured down to the small stream that runs through it. I'm not sure if it was because it was the first time in 8 months that I was wearing shoes or that I'd lived on a sofa for 4 months but I went over on my ankle, badly spraining it. To be honest I thought I'd broken it at first. But I could put my weight on it. My ankle felt like a ball of snapped elastic bands. Hobbling on we got the images on the battlement bridge over the stream. It was an injury that would plague me for months.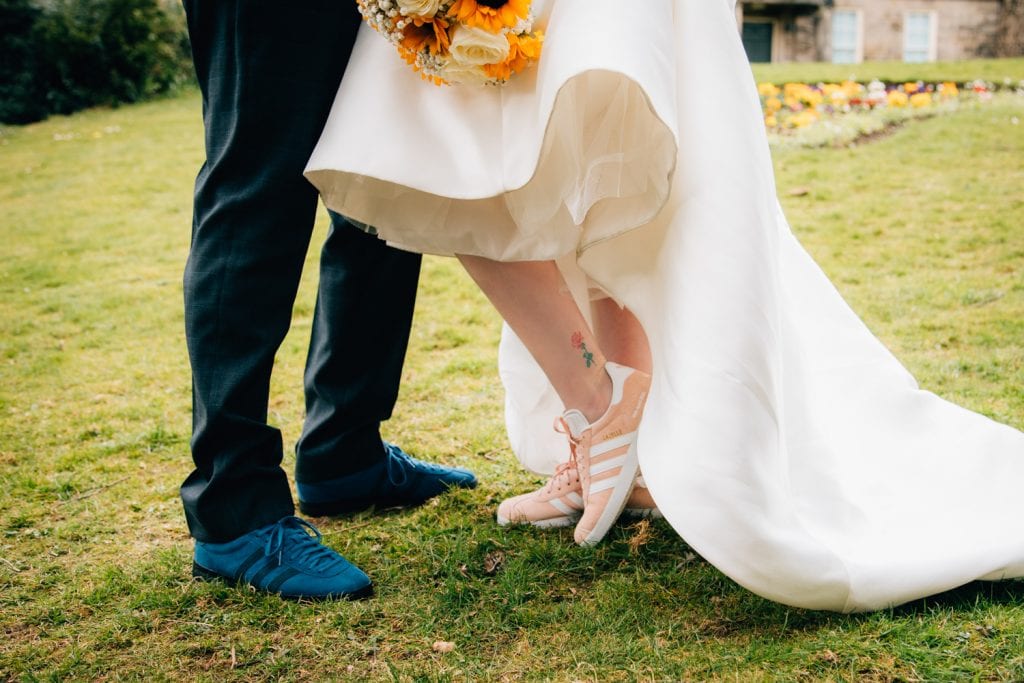 Although this was a small celebration and we were only with them for 2 hours we really wanted to do our very best for Julia & John. We know they had a fabulous party when they were allowed with all their family & friends.
My ankle wasn't broken but my whole foot went black and I thought it would drop off in the weeks following. It wasn't the worst injury Lisa and I would pick up but it slowed me down all summer and I can still feel it writing this in January 2022.
Julia & John really deserve all the very best in life. Genuinely, a wonderful couple and we can't wait to see them again in the future.
We hope you like this small selection of photographs taken at the wedding.