Lorraine & Russell's Wedding at Woodhorn Museum and Reception at Caboose in Blyth
We don't normally attend wedding fairs but we were honoured when Woodhorn Museum hosted one and invited us. It's where we met Lorraine & Russell for the first time. They were a great couple with a strong connection to Woodhorn Museum and they told us all about their reception at Caboose in Blyth. Then Covid came along and spoilt a lot of plans. Lorraine & Russell though held their nerve and rolled with the punches to get their fantastic wedding.
After months of rescheduling couples we finally got the news that from the 1st of August, you were going to be able to hold weddings with 30 or more people without receptions. It was always going to be touch and go. Tier restrictions were just starting and our small amount of freedom could be withdrawn with just a few days notice. Lorraine & Russell were our only couple not to reschedule. They had a dream of moving abroad which was all set to become a reality. They just wanted to get married surrounded by their family before they went.
Woodhorn Colliery Museum
Our first wedding in months and August let us down a little. That morning we had grey skies that constantly threatened rain. But nothing was going to stop Lorraine & Russell from getting married today. We love Woodhorn, it's a unique venue with friendly helpful staff. We'd first visited for Emma & John's Wedding the previous year. The Museum itself was still closed and I believe still a few weeks away from reopening so we had the grounds all to ourselves. Russell and his best man had a hoot as we wandered around the grounds. The novelty of wearing their Northumbrian Tartan had them taking the mick out of each other all day. That and his best man constantly fighting to keep his socks up.
A New Covid World
This would be Woodhorn's first wedding in this new covid world. I remember there was a great deal of trepidation from the venue staff. They wanted everything to be perfect for the Registrars. When you're working at a wedding the registers are the head honchos. What they say goes and, as a photographer, you mess with them at your peril. But you always knew where you stood with them, unlike vicars or priests. They are trained in a uniform way and it helps so much on the day.
Meeting with Lorriane, Russell and the Woodhorn staff the day before the wedding with Covid changed the routine. The lengths they went to, implementing social distancing measures, were impressive but depressing at the same time. Everything had to be rethought and "muscle memory" retrained. Communicating with people and working with steamed up cameras while wearing a mask was a challenge. Seeing guests at a wedding in masks for the first time was surreal and Lisa & I discussed whether we should actively take photos of people in masks. We agreed it is the current reality and it should be documented even if it's not necessarily an aspect of the day that you will cherish.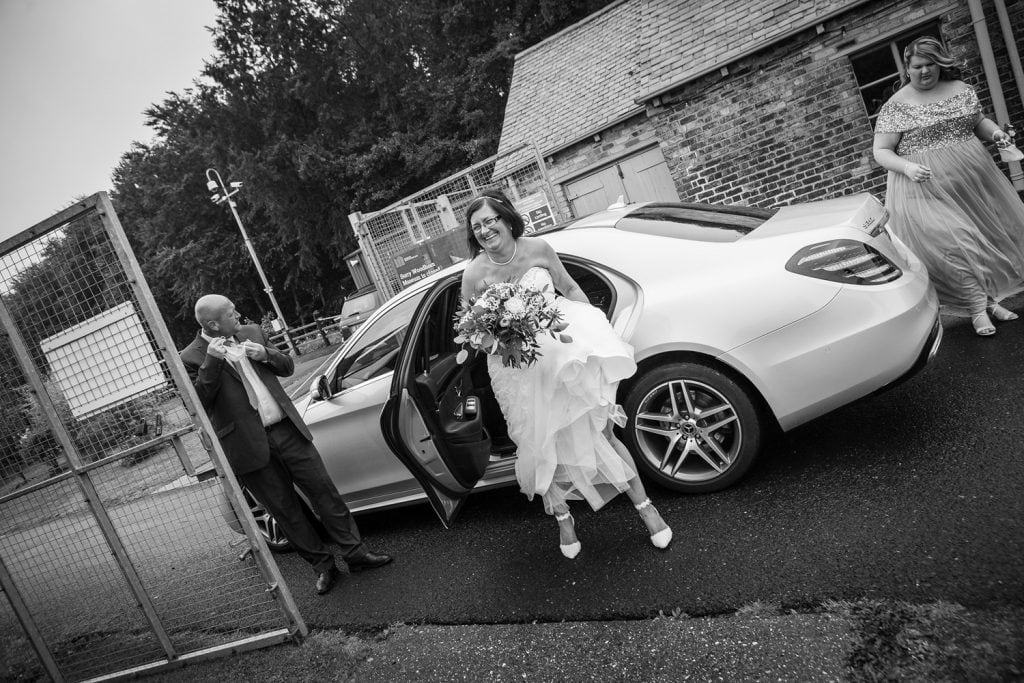 Despite all of the new rules and limitations, it was all put into perspective seeing Russell's face when Lorriane walked down the aisle. Lorriane positively glowed as she walked down the aisle and you could still feel the love from all of their guests behind their masks. The registrars did their very best to keep the focus on our fabulous couple.
A Day in the Musemum
Once the registrars left the venue's staff breathed a sigh of relief and we tried to get the wedding onto a more normal track, while still keeping things safe for everyone. Like the socially distant heart-shaped group shot. As the exhibits were all closed to the public, the staff kindly let Lorriane & Russell tour them for some photos. She also loved the colliery banners display and the paper birds exhibit.
Missing Family
One very important person missing was Lorraine's mother who was shielding. Lorraine's dad was a miner at Woodhorn Colliery as well as a local councillor and had a small memorial plaque on the grounds for him. So, after laying some flowers at his memorial, Lisa followed them to her mothers home for some photos together. Before heading to Caboose in Blyth, they stopped at South Beach bandstand, one of Lorraine & Russel's favourite spots. Meanwhile, I followed the wedding guests to Caboose in Blyth.
Caboose in Blyth
One large issue with weddings restarting in August 2020 was that you couldn't have a wedding reception. But what you could do was book a table in a restaurant. Lorraine & Russell simply booked out the whole restaurant with each household at a different table. Socially, it wasn't going to be ideal but it worked within the rules
Lisa and I had visited Caboose for lunch just a few days before and we hadn't heard of this great little place. Wonderfully light even on an overcast day. Quirky and contemporary with a fab balcony looking out to the River Blyth.
Blyth Boathouse
As Lorraine & Russell arrived at Caboose in Blyth Boathouse they were presented with a bottle of champagne and they decided to take it out on the balcony. As the seagulls watched on, our bride & groom popped the cork on their first bottle as a married couple. It rocketed into the river, only to be grabbed by a baby seagull who promptly flew off with it. We couldn't believe it!
Sadly, after some great speeches, an amazing meal and great live music the celebrations came to an end. Though not before realising that wearing a mask skewed communication far more than I thought. We were chatting to some of Lorraine & Russel's guests who misheard me while taking group photos earlier. I normally get guests to say stupid words to get good facial expressions. I rely on a list of non-offensive, but cheeky words straight out of the Dick & Dom Dictionary. Tried & tested over years. While taking our first large group in over 5 months I blurted out "can everybody say cough!". Bad taste, I know, in hindsight. Even worse was that most of the guests thought I had asked them to shout "C*#K"!!. I was mortified but the guests thought it was great. I still won't be adding it to my list though.
Last for a While
So despite all the challenges, uncertainty and global events. Lorraine & Russell had a great wedding day at Woodhorn Museum & Caboose in Blyth. It was sadly our last wedding of the year… in August?? Tiered restrictions continued to restrict weddings and the rest of our couples aimed for 2021 & 2022 dates.
Lisa & I did, however, get to present Lorraine & Russell with their photos at the studio before they escaped to a new life in warmer climes. We wish them the very best for the future and hope they have a great life together.
We hope you like this small selection of photographs taken at the wedding.