Vicky & Andy's Gorgeous Wedding at The Black Horse in Beamish
Vicky & Andy contacted us in the spring of 2021 while we were all locked down. Their plans of a Mediterranean wedding in Italy had been dashed and they were having to quickly rethink their whole wedding plan. They lived in Middlesborough but had family scattered right up the Northeast and thought The Black Horse in Beamish would be the perfect middle-ground for everyone.
Central Loft, Newcastle upon Tyne
Andy and his best men (he had three of them) had booked a penthouse apartment in the centre of Newcastle upon Tyne the night before the wedding. I wasn't 100% sure what the parking situation was outside of this beautiful building. I remember sitting in the car a good 15min early wondering what the view was like. The lads let me in and escorted me to the top floor. The penthouse was bustling with lads desperately getting ready in various rooms and keeping Andy's 2 yrs old son alive.
Vicky must be very trusting. A stylish bachelor pad, 6 lads & a toddler are normal the basis of Hollywood comedy movies. But Andy did a great job. Peppa pig was rocking the TV and every piece of furniture was used to wrangle the excited Finn into his suit, including the pool table. Gradually, the lads started to gather in the living room for their finishing touches.
Once Andy & Finn were ready we ventured out onto the rooftop of the central loft to check out the Newcastle skyline. I could literally see Newcastle College where I started my career as a photographer. I originally wanted to be a pilot but British Airways cancelled their training course that year and I took a photography course to fill in a couple of years hoping they would restart it. Instead, I fell in love with photography and never looked back.
The Black Horse in Beamish
This was our first visit to this wonderful and unique venue. The area is a hot spot for great venues. We are regulars at Beamish Park Hotel, Beamish Hall & The Causey Inn but we'd never been lucky, until now, to book a wedding at the Black Horse in Beamish. Like The Causey Inn, it's a pub with a great reputation for great food that's slowly built off that success and added accommodation and the splendid Orchard Marquee. If that wasn't enough there is a beautiful Lavender field above the pub. We were lucky enough to find it in full colour.
While I was in Newcastle with the lads, Lisa was with Vicky, her mum & bridesmaids. They were getting ready in one of the many lodges that the Black Horse in Beamish have on site. The girls were so welcoming and offered her drinks. It's not often Lisa is out mothered.
We're also not sure if they had ever met a geordie before too. They couldn't get enough of Lisa's accent, even though we are only 45min from them on the A19. They all got on really well, no one was left out. The champagne was flowing and Vicky's sister was just as excited as her.
Speech Rehersal at the Black Horse in Beamish
Andy & the lads arrived at the Black Horse in Beamish with plenty of time to spare. His best men dashed off for a last-minute rehearse of their 3-way speech. Finn had fallen asleep in the car on the way so rather than disturb him Andy's groomsmen nipped to the bar for him as he stood watch to let him sleep. Andy & his friends sipped their pints in the car park greeting guests as they arrived.
As Finn awoke from his power nap full of beans and headed straight for the vintage tractors displayed at the pub. I decided to use it to my advantage for some more groomsmen shots and Finn loved being chucked around by his dad.
Shots, Shot, Shots at Black Horse in Beamish!
The party was still going at the girls' cabin and Vicky looked amazing in her dress. It was perfect for her. Her bridesmaids loved helping her add the finishing touches. There was loads of room at the cabin with a balcony that looked right over the Beamish Valley.
The George Ridley Room
Vicky & Andy were going to get the most out of the whole site. Starting with the main bar for meeting guests and then using the George Ridley Room & its rooftop terrace for the wedding service & reception. It has a wonderfully cosy feeling with loads of quirky details on its many window sills.
Normally at this point, I'm trying to keep the groom's nerves calm but Finn was keeping Andy on his toes enough to keep his mind off the ceremony.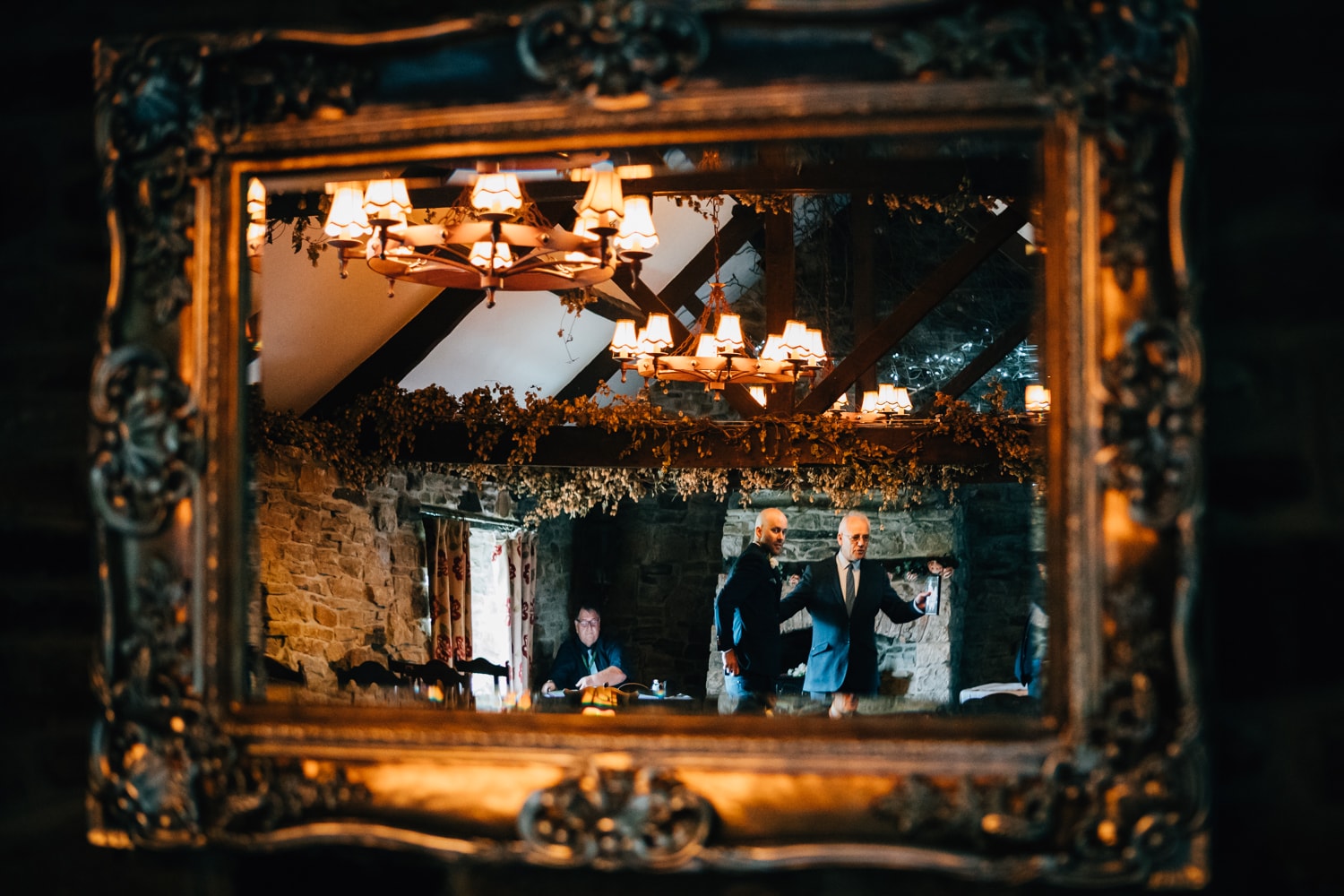 As Vicky's brother arrived to walk her down the aisle, her mum revealed the special shot glasses that she had collected from her many travels. A quick shot for courage, a few more groups on on the balcony and then off to the ceremony.
When the Tears are Flowing
As Vicky walked down the aisle her bridesmaids were in bits and as Finn saw his mum for the first time that day he made his protest known. As always the registrars took it in their stride and welcomed a quick cuddle for the upset toddler. Luckily Vicky's mum and stepdad were on hand with a backpack full of goodies for him.
Rooftops and Sunday Dinner Hors d'oeuvres
After a beautiful ceremony, we left Andy & Vicky to mingle on the Rooftop Terrace. The Hors d'oeuvres were great. Mini Sunday dinners that looked amazing. I didn't get to try one as I always make a mess. Space was tight with so many guests but it was fun to be more of a voyeur through the windows.
Lisa continued to capture candid shots of guests while I made a final decision as to where we were going to take the group shots. At the Orchard Marquee, snazzy hens were casually wandering around. We had quite a large wedding party so the options were to either look down from the rooftop terrace, use the balconies of the lodges or look out over the Beamish Valley. Sometimes having loads of options makes the decisions harder. We picked the park benches outside the Orchard Marquee for the large group and the Beamish Valley for the smaller groups. The views were amazing.
The Lavender Fields
After some great groups shots, we had time to whisk the Bridal Party up to the Lavender Field. It's a unique area with its own challenges. It's on a hill and grassy so heels can be fun so we did our best to keep Vicky in one spot and work everyone else around her. Leaping lavender bushes just wouldn't work. We did our best to use the lines in the field as well as cut across them for different looks. My mistake was thinking that if we needed to extend the lines it would be easy but it wasn't. It took a long time to add in places. I'm so glad Lisa got the wedding party to move further up the field or I'd have been photoshopping for days.
When Life gives you Lemons…
As we mentioned, Vicky & Andy were all booked to get married in Italy. The lemon theme had been planned for the Mediterranean look so they carried it on for Beamish too. The room looked fantastic and unusual. We were entertained by some wonderful speeches by Vicky's brother & sister and the three best men. Finn tried to upstage them of course, but you should never give a 2 year old a microphone!
Beamish Valley
After a makeshift football match and some fun with the wedding guests, we encouraged Vicky, Andy & Finn for some more images. We couldn't let this sunset go to waste, especially since the clouds had broken after grey skies all day. We had great fun just playing with Finn and poor Vicky couldn't easily join in the rough & tumble.
I remember Vicky trying to convince us to put the cameras down at this point and go home but we weren't having any of it. We were thoroughly enjoying the wonderful night and laid back wedding.
After a little bit of dancing and an incident with a rose bush vs veil, we called it a night. Vicky & Andy wanted to get down to some serious partying (not that we were stopping them) and as it was a school night we had appointments first thing in the studio so we had to say goodnight.
After the wedding, Andy opened a new business and life got very busy for them both. We were gutted we didn't see them again to present their photos but we know they loved them and we wish them all the best in the future.
Here are some of Vicky & Andy's suppliers that made their wedding day unique.
Cake Supplier: Sprinkle of Summer
Venue: Blackhorse Beamish
We hope you like this small selection of photographs taken at the wedding.