St Aidan's Church in Ashington followed by The Beamish Park Hotel for Mary & Alex's Wedding Photography
Mary & Alex's tropical-themed wedding was going to be a real blending pot of locations, religions, family and friends. We hadn't visited The Beamish Park before but had driven past it many times. From the roadside, it doesn't look like it has great potential for wedding photos. But it's one of these venues that only gives up its charms on a couples big day. With a big drive between St Aidan's Church in Ashington and The Beamish Park Hotel, there was a lot that could go wrong for us but Mary & Alex were very laid back at their planning meeting and we were really excited to photograph both of them.
Scouting the Beamish Park Hotel
Now before we start on the wedding day, I have to tell you I got the wrong impression of the Beamish Park Hotel before the wedding. Mary & Alex had sung its praises but I couldn't find many other photographers work for the venue. This, combined with a poor scout visit, made me wonder why they had picked it as their venue. Because the venue was quite a drive from Blyth, I thought I'd be able to able to call into the hotel after another wedding we had at The South Causey Inn, about a month before.
The sun was starting to set as I left, putting the Beamish Park Hotel into my satnav, then 15min later I was sitting in the car park of Beamish Hall for some reason. Needless to say, it was dark by the time I got to the actual venue I wanted. I scared the pants out of the hotel receptionist turning up late at night and couldn't see a thing. If nothing else, I knew to double-check the satnav on the wedding day.
A Sunny Start in Ashington
On the day of the wedding, Lisa had planned to meet Mary at her home. Mary didn't want the bridal prep photographed but did want some images at the couples home. Her little flower girls arrived, nervous and unsure about what was going on. But a big hug from Mary helped to put them at ease. People were getting ready all over their beautiful home.
Mary's brother had the honour of walking her down the aisle. Lisa wasn't sure what he was more excited for… proudly escorting his sister or the VW Beetle convertible parked outside. He was bursting to have a go. Mary looked absolutely stunning as she came down the stairs to greet him.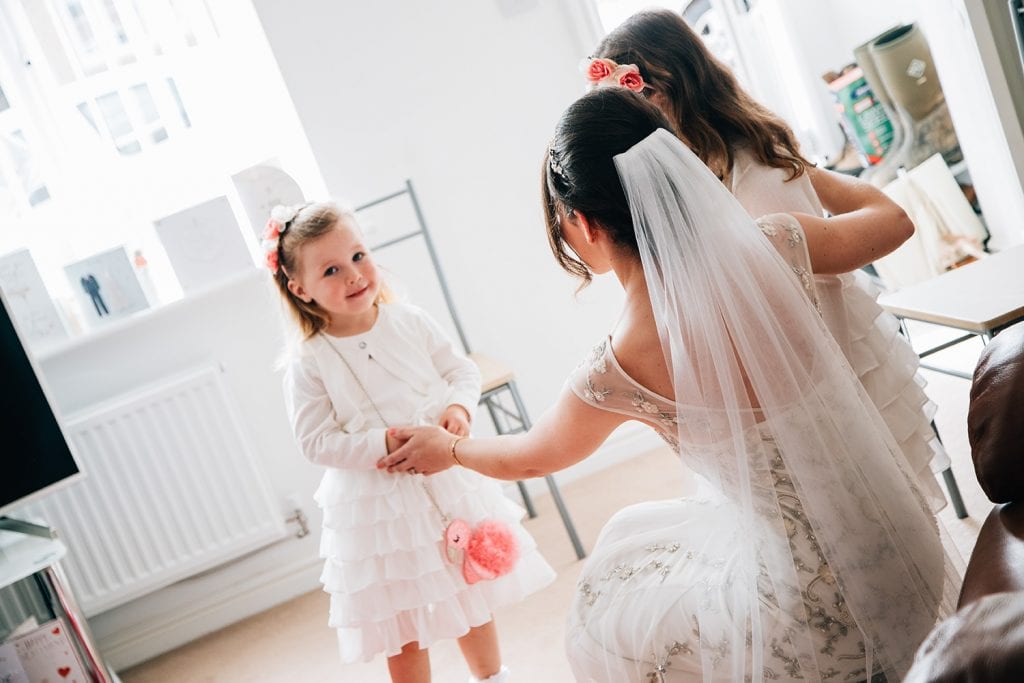 St. Aidan's RC Church in Ashington
While I waited under beautiful blue skies outside St. Aidan's Church I greeted guests as they arrived. The church looks like a normal town centre church on the outside but is stunning inside. This was to be the first time we'd be able to roam the church a little. In the past, we'd always been sent to the back of the church in the overhead balcony, like all the other naughty photographers. As the guests continued to arrive I noticed a lot of different accents and a definite Irish contingent to the family.
Where's the Groom?
I'd arranged to meet Alex at 11:15 am with his groomsmen but with 20 min to go, only 2 groomsmen had arrived. They had made the schoolboy error of leaving the Groom & Bestman to fight with tropical buttonholes and left them behind. When Lisa text me to say the bride was in the car and on her way, I still had no groom. His ushers were feverishly texting him as I prepared to send Mary's VW motorcade around the block. With 5 mins to go, Alex and his best man breezed in, to everyone wiping their brows. He's so laid back and wins Halo Photography's "Latest Groom Award". Logging a reminder to find time later in the day to get more groomsmen shots I greeted Mary in the church grounds until Lisa could get parked.
Mary's party of bridesmaids, flower girls and her brother arrived none the wiser of the close call. They were all so excited. Once Mary had walked down the aisle, Lisa planned to stay up on the church's very useful balcony while I was allowed to float up and down the side aisles. It let us capture some great images of the bride & groom against the beautifully painted panels on the alter.
The priest kept us on our toes by having Mary & Alex face the congregation while he stood and faced the altar. Why don't all churches do this? It made them the centre of attention. Mary's colours complimented the church beautifully. Somehow I managed to keep out of all of Lisa's shots. The service was wonderfully relaxed and some of the younger children explored the church as we tried not to draw attention.
Sillyness in Church
Mary & Alex had asked us to do some groups after the service especially capturing Mary's Sister who, due to illness, might not have been able to last the whole day's celebrations. Mary couldn't hide her protectiveness of her big sis, who was a real trooper. You also have no idea how good it feels to shout silly words from a church balcony as loud as you can to get a big group shot. The acoustics were great. We'll probably get put on the naughty step for the next wedding there but it was worth it for the laugh.
Arriving at the Beamish Park Hotel
After leaving St Aidan's Church we hot-footed it to the Beamish Park Hotel. It felt like a different world to the townscape in Ashington. As we arrived I quickly checked in with the hotel staff who showed me up to the brand new outdoor bar that they had just built. Accessed by steps leading up a small embankment is The Secret Garden & Olives Bar. Tree-lined on one side with the open vista of a golf course on the other. Every worry I had about the hotel disappeared instantly. We had space for groups, a picturesque reception and weather to die for.
Normally when we have a long drive to reception venues we have very little time to play about and enjoy ourselves but Mary & Alex had scheduled more than enough time for everyone to relax and soak in this great atmosphere. We had time to have fun with the VW's and catch up with Alex and his Groomsmen. This space was perfect for candid images too. Guests don't react naturally if you're mingling among them but this area gave us the space to orbit around them catching some great moments.
Flamingos at the Beamish Park Hotel
How amazing was this room? Flamingos, palms and tropical flowers filled the room. It's was just how Mary & Alex wanted it. The guests loved it too. It was certainly unique.
Irish Dancing to Start the Night
Not only does Mary have Irish roots, but she was also part of Newcastle Universities Irish Dance Troop. The current roster of dancers kicked off the evening with an amazing showcase performance. We'd had the experience of photographing Irish Dancers before and they are tough to catch in low light. Their legs never stop so you can't wait for a pause in motion and the choreography is non-repeating & seemingly random (to an Irish dancing photographer with 2 left feet anyway). Thankfully the girls danced long enough for us to catch some great shots.
We all thought Mary might have joined in with her old Irish dance troop but she kept all her moves for the first dance with Alex. After a short turn the DJ got everyone up to join them for a great moment. The lounge at Beamish Park hotel is wonderfully intimate, so no one has an excuse not to join in. Then came the real challenge. A Baby Shark dance-off with Mary & Alex's flower girls!
Lisa & I thoroughly enjoyed Mary & Alex's wedding and we look forward to returning to the Beamish Park Hotel very soon. The staff were wonderfully helpful but never overstepped the mark. They were there when needed and didn't lay down rules or restrictions to anyone. We wish Mary & Alex a wonderful life together and hope the images & your beautiful album help you remember this great day.
Here are some of Mary & Alex's suppliers that made their wedding day unique.
We hope you like this small selection of photographs taken at the wedding.
Help us Spread the word, Tell your Friends