As You Like It for Bryony & Phil's Wedding
We were so excited for Bryony & Phil's Wedding at As You Like It. It was a wedding of firsts from the start. Bryony was our first bride to contact us through our, then, "new" wedding blog. A rare urban wedding for us and our first visit to As You Like It. A popular venue in Jesmond, on the outskirts of Newcastle-upon-Tyne.
We knew from the first time we met Bryony & Phil that they would have a great day. They are both larger than life characters, brim-full of ideas and vision of what they wanted their wedding to be. They had a plan to ensure a casual, easy-going day. Their pre-wedding shoot confirmed that they were budding models and we hoped that we'd squeeze a whirlwind jaunt to Jesmond Dean in.
An Exciting Start to a Wedding Day
Bryony & Phil's wedding was our second of the weekend so a later wedding was a blessing. Phil and his two boys planned to get ready at his mum's house and Bryony was staying home for her wedding prep. Lisa & I both had our addresses and planned to arrive at a similar time. We had no idea they all lived in the same estate, literally a street apart. We pulled into the estate at the same time totally independently. After figuring out neither of us had the wrong address we had a laugh and cracked on.
Retro Heaven
As Lisa arrived, Bryony was having a ball getting her hair done. She was interrupted by Phil grabbing the lads ties & socks. Bryony had to hide in the kitchen so they didn't see each other. Her flowers were beautiful. Freshly cut from one of her bridesmaid's gardens. They also planned for them to adorn their tables later that afternoon.
Lisa loved Bryony & Phil's home. Full of retro furniture. Lisa was in heaven and especially liked Bryony's wall of mirrors. The bridesmaids vintage style dresses were fabulously unusual and the girls were a great laugh.
Car Cleaning, Shirt Ironing and Learning to Tie a Tie.
My day started with uncertainty. Even after checking with Lisa I still had a panic that I was at the wrong house. No answer at the door! Luckily, Phil answered his phone to alleviate my fears. He was on his way home but wasn't sure why his boys weren't answering the door as they were in. Just as I finished the call, hilariously, a bare-chested teenager hung out of an upstairs window to apologise he didn't hear the door because he was in the shower.
Phil arrived minutes later and after cleaning out his car, ironing shirts giving his boys pocket watches as a wedding gift he started to get ready. This was not the super organised Phil I had met previously. Turned out that his Bestman had been forced to drop out at extremely short notice and he was having to do everything himself on the morning of his wedding. Phil's substitute best man arrived and did his best to help where he could.
I took photos between helping with ties & buttonholes but eventually had to leave for As You Like It. Time was running away from us and we were pushing the clock.
Beautiful Dresses
Bryony's wedding dress was found by chance in a vintage market where she loved shopping. It's style summed up her personality. Stunningly beautiful, sleek and elegant, all in one.
Before heading to As You Like It, the girl's crossed Bryony's street where a beautiful tree stood alone with a brick wall behind. Lisa used it to get portraits of the girls. All of her neighbours came out and people passing in cars kept honking there horns.
As You Like It
I'd been to As You Like It a few times socially, mostly drunk to be honest. I remembered it having wonderfully quirky decor and great food, so I'd made sure I'd scouted sober before Bryony & Phil's wedding. It's a great venue for a couple. Intimate, moody with great staff. For a photographer, it's visually outstanding but technically challenging. Moody is great… except for exposures and intimate is wonderful if you don't more than half a dozen people in the photos. All challenges to be planned for and overcome.
All of the challenges Phil and his entourage had overcome before the service had put the boys behind schedule. I'd planned to take the lads around the outside of the venue for some urban cool shots but the registrars and guests had beaten us to the venue. I had to keep them close to the service room as there were just minutes to go before Bryony arrived. Out in the "secret garden" I focused on Phil & his two very dapper sons.
A Room Full of Love
As You Like It holds its services in their downstairs private function room, Frangipani. If sticky toffee pudding was a room it would look like this. Fairy lights and little pools of light from spots are the only light sources. It pushes our gear to the limit but looks amazing. We pondered setting up portable flash stands but feared the guests would see stars if we were constantly setting them off during the service.
Bryony looked amazing as her dad walked her down the aisle with the longest veil I'd ever seen. Holding hands from the very start, Bryony & Phil, beamed throughout the service. Phil's best man stepped up to the plate and successfully delivered the rings without a drop of nerves. Not bad for a few hours notice of his duties.
The Balcony at As You Like It
As we mentioned, As You Like It doesn't lend itself to big groups as it's such an intimate venue and working eatery. Thankfully it's multi-levelled with a very handy balcony looking down on to the wedding party's bar. So it's a no brainer to use it for a big group shot. Candid shots are tough though. When you're close to people they spot you straight away and change their behaviour. I guess we could have wandered into the restaurant but the diners wouldn't have been happy.
The balcony is a great space for small groups. Wedge-shaped you can use different areas for different sized groups. But hilariously, unless you take ownership of the whole Balcony you find yourself moving onlookers. We had a running banter with Bryony's mum who I think we asked 3 times to swap seats. She happened to sit just where I needed to be for the next shot each time. She certainly got her daily exercise in.
The Frangipani Suite
At a certain point, we had to use a different area so we agreed with the staff to escort some of the family into the secret garden, down stairs. It also gave us a glimpse of how the Frangipani suite was going to look. The couples fresh flowers worked perfectly with the decor. The room looked cram-packed with love.
After some very honest and heartfelt speeches, we had planned to whisk Bryony's & Phil off to Jesmond Dean. But our gorgeous couple were having such a good time at As You Like It, they decided to stay close. So I wasn't going to get to do their urban photoshoot after all.
Urban Wedding Photo Shoot
This pair were so easy to photograph. They just fit together physically and emotionally. Few of our bride & grooms have Bryony & Phil's confidence in front of the camera. Believe it or not the photo's against the sandstone wall was the car park behind As You Like It. The plants growing on the walls could have easily been in a country estate.
On the other side of the venue, we used the newly refurbished courtyard. One half of which was still a building site and covered in scaffolding. We wanted Urban but not that Urban. We were lucky in a way as the buildings surrounding us were still empty so it was a very private area. It helped Bryony & Phil be themselves which and created a natural, loving set with a surprisingly colourful background.
Dry Ice & Fairy light Lit First Dance
Back inside, the As You Like It staff had reset the private function room while all of the wedding guests had spent some time in the upstairs bar. We looked forward to the first dance. There was a rumour Bryony was a dancer and they didn't disappoint. We love it when everyone joins couples on the dance floor. It should be compulsory.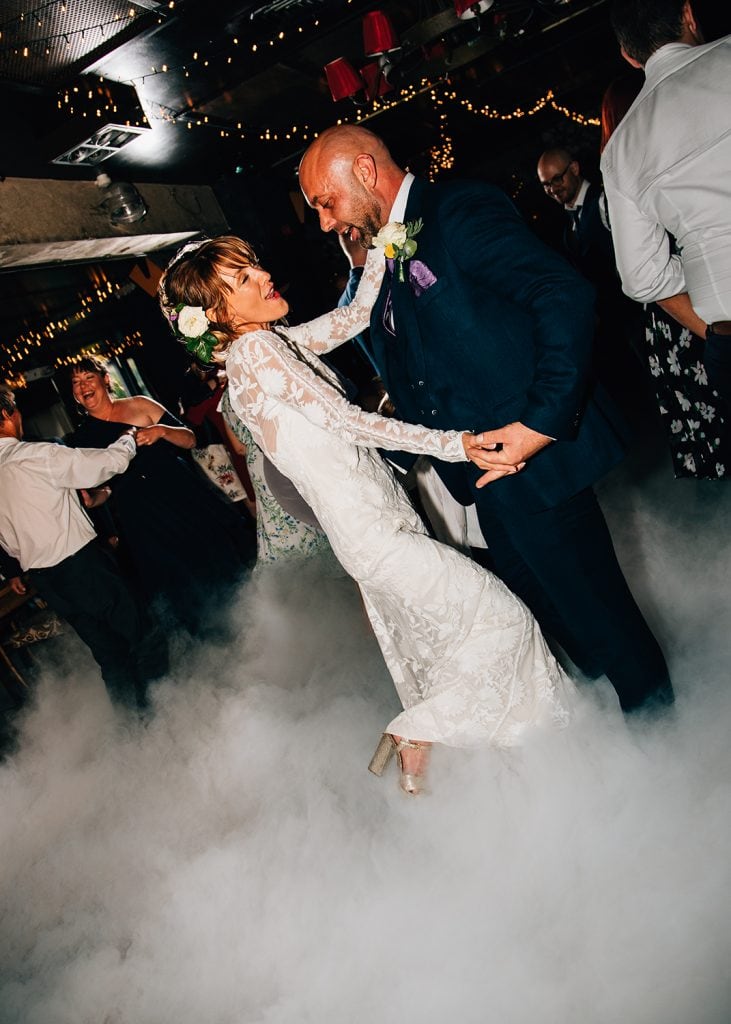 So as the day ended for us, Bryony & Phil promised us a shoot in Jesmond Dean and gave lots of hugs. We'd loved every minute. It had been the first wedding in a while where the venue had challenged us and we are really proud of the results. Halo Photography would like to wish Bryony & Phil lots of love and hope they cherish their images for years to come.
Here are some of Bryony & Phil's suppliers that made their wedding day unique.
We hope you like this small selection of photographs taken at the wedding.
Help us Spread the word, Tell your Friends